Shire of Merredin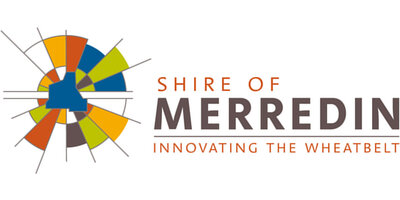 Organisation:
Shire of Merredin
Phone:
(08) 9041 1611
Organisation Website:
http://www.merredin.wa.gov.au/
Profile:

The Shire of Merredin includes the towns of Hines Hill, Burracoppin, Sth Burracoppin, Goomarin, Korbel, Merredin, Muntadgin, Nangeenan, Nokanning, Tangedin, Nukarni and Norpa. It is situated approximately 260 kilometres east of Perth (the capital city of Western Australia) and is the major commercial and retail centre for the eastern Wheatbelt.

Merredin is also a regional base for a range of Government agencies and services. It is an area with high employment and extensive community involvement.

Located on the Great Eastern Highway and having the benefit of railway facilities (Merredin is serviced daily by the TransWA Prospector train) it is convenient to find by road and rail.

The region is known for agriculture; approximately 40% of Western Australia's wheat production comes from a 100km radius around Merredin. Sheep farming is also popular in the region, along with production of many grains other than wheat.


Some attractions include the historic Cummins Theatre, Merredin Peak, Merredin Railway Water Tower, two museums, an art gallery, the longest grain storage facilities in the Southern Hemisphere, as well as the remains of military installations from the town's role as second line of defence, during World War II.


Wildflowers and granite rocks are also a picturesque natural environmental feature of the area.


Hot, dry summers and mild winters are enjoyed with an average maximum temperature of 24.70C and an average minimum temperature of 10.6°C. The temperature remains in the low 30's or above between December and February.


The average annual rainfall is 314 millimetres, with wettest months usually being May until August.

Weather conditions in Merredin are well suited for aviation pursuits; the Merredin Aerodrome, owned by China Southern West Australian Flying College, specialises in training commercial airline pilots.
Search among Shire of Merredin jobs
no jobs found