Rous Water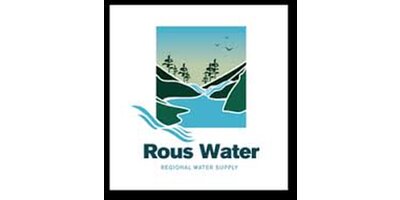 Organisation:
Rous Water
Phone:
(02) 6621 8055
Organisation Website:
http://www.rouswater.nsw.gov.au/
Profile:

Rous Water is the regional water supply authority providing potable water in bulk to the Council areas of Lismore (excluding Nimbin), Ballina (excluding Wardell), Byron (excluding Mullumbimby) and Richmond Valley (excluding land to the west of Coraki). The regional supply network includes over 33,000 connections within the reticulation areas of these constituent Councils, and around 1,900 retail connections to the Rous Water trunk main system. Reticulation of the water within the urban centres is the responsibility of the constituent member Councils. A population of around 95,000 is serviced by this water supply system with the actual area of operations being approximately 3,000km2.

The principal source of our supply network is Rocky Creek Dam, situated 25 kilometres north of Lismore near the village of Dunoon. The Dam has a storage capacity of 14,000 ML. To ensure that the region has a secure supply of water in the short to medium term, a new source of water was recently developed. $42M was invested by Rous Water for the construction of a new source of water - the Wilsons River Source - which increased the water available to the region by more than one third, providing about 4000 ML per annum of additional water. Other available sources under Council control include Emigrant Creek Dam (820 ML), Convery's Lane and Lumley Park bores in the Ballina area, as well as three bores near Woodburn in the Richmond Valley area.

Council's infrastructure is valued in excess of $250M which in addition to the physical trunk main and pipeline system includes, among other things, reservoirs and tanks, Rocky Creek Dam, Emigrant Creek Dam, two Water Treatment Plants (Emigrant Creek and Habbie Habib Nightcap) and the Wilsons River Source. Council also has a range of public access areas in and around Rocky Creek Dam and Emigrant Creek Dam.

Council has a range of commercial property interests as well as owning and operating its own water laboratory in Lismore, Richmond Water Laboratories.
Search among Rous Water jobs
no jobs found